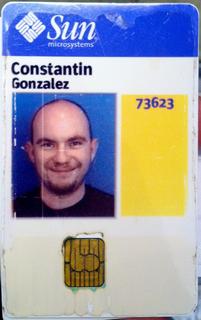 A while ago, I argued that the world of IT is changing, and that change is good. And that as a result of change, many people would need to change their jobs.
Well, I did it. Last Tuesday was my last working day at Oracle.
14.5 years ago, on January 15th, 1998, I joined Sun Microsystems, directly from university. Back then, I was immersed in the world of the world-wide web: I used to be my university's web master, and I already worked with Sun as a temp, administering the web server of ARD, the biggest German public television network. (Check my CV (no link, page no longer exists) for details.) Those were the fun days when entire web sites ran on a single processor, single disk Netra i system (arguably an Engineered System already) that was sitting in a small rental office somewhere in Hamburg.
14.5 Years of Learning and Meeting Great People
During my time at Sun, I had the privilege to learn a lot about UltraSPARC, Solaris, System design, web protocols and standards, Java, big systems, small systems, really big systems, clusters (both for high availability and for performance, as in HPC), batch scheduling, workstations, visualization, 3D, real graphics cards, Grid Computing, Web 2.0, blogging, podcasting and finally, Cloud Computing.
Then, after Oracle took over, I continued learning: Databases (only a little bit, I confess), Weblogic, ITIL, Enterprise Architecture and TOGAF, and of course Engineered Systems.
I also had the privilege of meeting great people, both at Sun and at Oracle: Great engineers, system engineers, field engineers, sales people, marketing people, managers, directors, VPs, even Scotty and Jonathan. And above all: Customers after customers, partners, ISVs and all other roles that the IT ecosystem has to offer. All of you provided helpful insight, inspiration, impulse, wake-up calls, viewpoints, nudges and the occasional kick in the butt.
Thank You!
The Road Ahead
My next job will be very different, though still IT centric. I hope I'll continue learning a lot while meeting great people. Almost everything will change for me, but one thing remains the same: Helping customers get the most out of exciting new technology.
The Blog
Of course, I'll continue to blog about interesting technology topics. Just bear with me while I settle down at my new job and figure out a few things before I start blogging about my job again. Meanwhile, I have plenty of stuff on my "to blog" list that I plan to share over time.
BTW, I actually run two blogs: This one and Paleosophie, a German blog about Paleo Nutrition and Lifestyle, which is the best way I know to really understand health, as well as HELDENfunk, a podcast for German sysadmins that a few friends and I produce semi-regularly. If you're fluent in German, feel free to check them out.
Stay Tuned
I'll now wrap up a few things, clean up my to-do list and go on a quick vacation, then start a new chapter in my professional life.
Meanwhile, feel free to connect with me on LinkedIn, Xing, Facebook and/or Twitter, and subscribe to my newsletter or my RSS feed.
To put it in the words of Austrian-American economist Peter F. Drucker:
"The overwhelming majority of successful innovations exploit change."