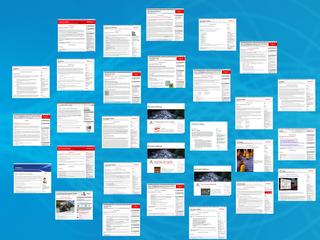 Solaris 11 is here!
And together with the official launch activities, a lot of Oracle and non-Oracle bloggers contributed helpful and informative blog articles to help your datacenter go to eleven.
Here are some notable blog postings, sorted by category for your Solaris 11 blog-reading pleasure:
Getting Started/Overview
A lot of people speculated that the official launch of Solaris 11 would be on 11/11 (whatever way you want to turn it), but it actually happened two days earlier. Larry Wake himself offers 11 Reasons Why Oracle Solaris 11 11/11 Isn't Being Released on 11/11/11.
Then, Larry goes on with a summary: Oracle Solaris 11: The First Cloud OS gives you a short and sweet rundown of what the major new features of Solaris 11 are.
Jeff Victor has his own list of What's New in Oracle Solaris 11.
A popular Solaris 11 meme is to write a blog post about 11 favourite features: Jim Laurent's 11 Reasons to Love Solaris 11, Darren Moffat's 11 Favourite Solaris 11 Features, Mike Gerdt's 11 of My Favourite Things! are just three examples of "11 Favourite Things…" type blog posts, I'm sure many more will follow…
More official overview content for Solaris 11 is available from the Oracle Tech Network Solaris 11 Portal (no link, page no longer exists). Also, check out Rick Ramsey's blog post Solaris 11 Resources for System Administrators on the OTN Blog and his secret 5 Commands That Make Solaris Administration Easier post from the OTN Garage.
(Automatic) Installation and the Image Packaging System (
IPS

)

The brand new Image Packaging System (IPS) and the Automatic Installer (IPS), together with numerous other install/packaging/boot/patching features are among the most significant improvements in Solaris 11.

But before installing, you may wonder whether Solaris 11 will support your particular set of hardware devices. Again, the OTN Garage comes to the rescue with Rick Ramsey's post How to Find Out Which Devices Are Supported By Solaris 11. Included is a useful guide to all the first steps to get your Solaris 11 system up and running.

Tim Foster had a whole handful of blog posts lined up for the launch, teaching you everything you need to know about IPS but didn't dare to ask: The IPS System Repository, IPS Self-assembly - Part 1: Overlays and Part 2: Multiple Packages Delivering Configuration. Watch out for more IPS posts from Tim!

If installing packages or upgrading your system from the net makes you uneasy, then you're not alone: Jim Laurent will tech you how Building a Solaris 11 Repository Without Network Connection will make your life easier.

Many of you have already peeked into the future by installing Solaris 11 Express. If you're now wondering whether you can upgrade or whether a fresh install is necessary, then check out Alan Hargreaves's post Upgrading Solaris 11 Express b151a with support to Solaris 11. The trick is in upgrading your pkg(1M) first.
Networking
One of the first things to do after installing Solaris 11 (or any operating system for that matter), is to set it up for networking. Solaris 11 comes with the brand new "Network Auto-Magic" feature which can figure out everything by itself. For those cases where you want to exercise a little more control, Solaris 11 left a few people scratching their heads. Fortunately, Tschokko wrote up this cool blog post: Solaris 11 manual IPv4 & IPv6 configuration right after the launch ceremony. Thanks, Tschokko!
And Milek points out a long awaited networking feature in Solaris 11 called Solaris 11 - hostmodel, which I know for a fact that many customers have looked forward to: How to "bind" a Solaris 11 system to a specific gateway for specific IP address it is using.
Steffen Weiberle teaches us how to tune the Solaris 11 networking stack the proper way: ipadm(1M). No more fiddling with ndd(1M)! Check out his tutorial on Solaris 11 Network Tunables.
And if you want to get even deeper into the networking stack, there's nothing better than DTrace. Alan Maguire teaches you in: DTracing TCP Congestion Control how to probe deeply into the Solaris 11 TCP/IP stack, the TCP congestion control part in particular. Don't miss his other DTrace and TCP related blog posts!
DTrace
And there we are: DTrace, the king of all observability tools. Long time DTrace veteran and co-author of The DTrace book*, Brendan Gregg blogged about Solaris 11 DTrace syscall provider changes. BTW, after you install Solaris 11, check out the DTrace toolkit which is installed by default in /usr/dtrace/DTT. It is chock full of handy DTrace scripts, many of which contributed by Brendan himself!
Security
Another big theme in Solaris 11, and one that is crucial for the success of any operating system in the Cloud is Security. Here are some notable posts in this category:
Darren Moffat starts by showing us how to completely get rid of root: Completely Disabling Root Logins on Solaris 11. With no root user, there's one major entry point less to worry about.
But that's only the start. In Immutable Zones on Encrypted ZFS, Darren shows us how to double the security of your services: First by locking them into the new Immutable Zones feature, then by encrypting their data using the new ZFS encryption feature.
And if you're still missing sudo from your Linux days, Darren again has a solution: Password (PAM) caching for Solaris su - "a la sudo".
If you're wondering how much compute power all this encryption will cost you, you're in luck: The Solaris X86 AESNI OpenSSL Engine will make sure you'll use your Intel's embedded crypto support to its fullest. And if you own a brand new SPARC T4 machine you're even luckier: It comes with its own SPARC T4 OpenSSL Engine. Dan Anderson's posts show how there really is now excuse not to encrypt any more…
Developers
Solaris 11 has a lot to offer to developers as well. Ali Bahrami has a series of blog posts that cover diverse developer topics: elffile: ELF Specific File Identification Utility, Using Stub Objects and The Stub Proto: Not Just For Stub Objects Anymore to name a few.
BTW, if you're a developer and want to shape the future of Solaris 11, then Vijay Tatkar has a hint for you: Oracle (Sun Systems Group) is hiring!
Desktop and Graphics
Yes, Solaris 11 is a 100% server OS, but it can also offer a decent desktop environment, especially if you are a developer. Alan Coopersmith starts by discussing S11 X11: ye olde window system in today's new operating system, then Calum Benson shows us around What's new on the Solaris 11 Desktop. Even accessibility is a first-class citizen in the Solaris 11 user interface. Peter Korn celebrates: Accessible Oracle Solaris 11 - released!
Performance
Gone are the days of "Slowaris", when Solaris was among the few OSes that "did the right thing" while others cut corners just to win benchmarks. Today, Solaris continues doing the right thing, and it delivers the right performance at the same time. Need proof? Check out Brian's BestPerf blog with continuous updates from the benchmarking lab, including Recent Benchmarks Using Oracle Solaris 11!
Send Me More Solaris 11 Launch Articles!
These are just a few of the more interesting blog articles that came out around the Solaris 11 launch, I'm sure there are many more!
Feel free to post a comment below if you find a particularly interesting blog post that hasn't been listed so far and share your enthusiasm for Solaris 11!
*Affiliate link: Buy cool stuff and support this blog at no extra cost. We both win!