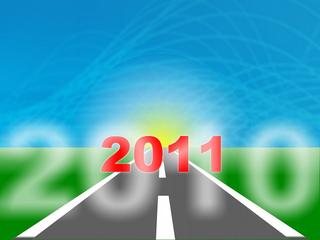 The year 2011 is almost two weeks old, and by now you've probably read every other review/resolutions/plans blog post out there. Now you have time to read this one :).
But first of all: Apologies for not having blogged for weeks. I've been moving to a new home over the last two months, the holiday season took its toll and there were a few other personal and job projects that demanded my attention.
Now, normality (whatever it is) is starting to come back and I can start devoting more time to this blog again.
This blog is now one year old, although I had been blogging for more than five years before. Time to reflect, plan and flip some switches for the future.
Here's a quick recap of 2010, some plans and ideas for this blog, a call for feedback and hints to some other projects for 2011.
2010: The Good Stuff
There's a lot of new stuff that I learned and gained experience with in 2010: Drupal, Creating a blog from scratch, hacking PHP, HTML and CSS, building a small army of close to 500 subscribers, not to mention all the new and cool technology that Sun and Oracle have been rolling out over the last year: Solaris 11 Express, SPARC T3, Cloud Computing and much more.
I wrote 44 articles for this blog and I'm proud of all of them. I consciously decided to go for quality instead of quantity (which is a huge credo of mine) and I'm very happy with the feedback and reactions I get.
Thanks to you, dear reader, for being part of all that good stuff, your feedbacks, comments, blog post suggestions, advice, and first and foremost: For reading this blog!
In addition to that, and together with cool people like Rolf (no link, sun.com no longer exists), Andreas, Johannes, Marc, Jan and dozens of studio guests and interview partners and more than a thousand of loyal listeners, we completely redesigned and relaunched Systemhelden.com, home to a German podcast for sysadmins and other IT professionals. If you read this blog and understand German, definitely check out the HELDENfunk podcast. Thanks a lot!
2010: The Less Good Stuff
I set some big goals with this blog and didn't quite fulfill them:
Instead of 52 articles (one per week), I only wrote 44. Well, one article per week is tough when you have a job, a family, move to a new home and juggle half a dozen of side projects. This is not meant to be an excuse, it's more a lesson: I'll be more careful with goal-setting and try to find a better balance between the goals I set and the many other cool and interesting things out there that ask for my attention :).

I didn't make it to 1000 subscribers, and barely touched 500. I'm sure this is a direct result of article volume and other time spent on the blog so I'm not too worried about this. Better have 500 readers that care about your blog than thousands who just forgot to remove you from their RSS readers. And if you subscribed to this blog (see, the friendly orange RSS symbol in the "Syndicated Thinking" block), I thank you for being part of my small army of readers! That said: If you like this blog, consider linking to it, tell your friends and mention your favorite articles on Twitter, Facebook, del.icio.us etc. and help me grow. Thanks! 1000 or more subscribers should still be possible in 2011 and I have quite a few ideas on how to get there.

I did start a new podcast however, if you count the relaunch of Systemhelden.com, even though it was just a relaunch. The amount of work and effort we put into it certainly qualifies as a new project and I'm glad it worked so well.
2011: Looking Ahead
I have lots of ideas. In fact, I have so many ideas that I need to cut down on reading books and other blogs so I can devote more time to prioritizing, testing and implementing more stuff, both with this blog and with some new projects. Here are a few things I'd like your feedback on:
Quite a laundry list, not counting the many small things I'd love to tweak on this blog like videos, design tweaks, automation etc. But like any other pet project: A blog is a never ending adventure!
Your Chance
Here's how you can help: Leave a comment below or send me feedback and tell me what you think of this blog. Let me know your thoughts about your favorite topics, new topics I should be writing more about, mailing lists, monetization, English vs. German blogging, and any other suggestion and feedback you have. I read every comment and every mail that I get through the contact form and I answer every one of them.
Ahh, the luxury of not having thousands of readers :).