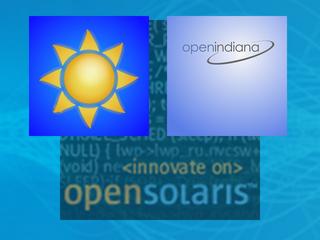 More than a while ago, I wrote about the birth of Illumos, a project that aims at substituting the last non-open-source bits from the OpenSolaris kernel with replacements, in order to create a 100% open source Solaris kernel.
On May 20th, I had the opportunity to attend the Nexenta European User Conference 2011 (no link, page no longer exists) in Amsterdam, where Solaris and storage enthusiasts from all over the world met to discuss their favorite technology: ZFS. Of course there was also a lot of talk about Illumos and related projects.
Now I've given a lot of Solaris presentations to customers, always highlighting the big, growing and powerful community behind the Solaris OS. But this conference added a new dimension to the Solaris Eco-System for me!
Prior to the conference, I had a peek at the Nexenta Partner Training, and I was quite impressed to see about 80 people listening to the gory details of ZFS technology, taught by Craig Morgan (@craigmorgan) and his colleagues, effectively becoming a new army of ZFS supporters.
Nexenta European User Conference
The conference itself was quite interesting (see the agenda (no link, page no longer exists)). It started with a "Storage is growing like crazy" keynote by Nexenta's Evan Powell (no link, page no longer exists), complimented by Chris Evans' irresistible review of 55 years of storage evolution, ending in the firm belief that the future of storage is open, while asking for better storage virtualization (wasn't NFS invented to virtualize storage in the first place?).
The rest of the conference was a good mix of user experiences, cloud and virtualization discussions. Notable highlight: Phil Harman (@pgdh) and his hilarious "High Availability matters" talk (see a version from OpenStorageSummit here on YouTube).
As with many conferences, the stuff that is between the sessions is often the most interesting. And this meeting was no exception. While talking to attendees, it became clear to me that the Solaris eco-system has become a vibrant, self-sustaining and rapidly growing movement, beyond what had started as "OpenSolaris".
The
ZFS

Working Group

A lot of discussions revolved around the "ZFS Working Group", a group of developers from all ZFS variants that aim at defining and coordinating common interfaces and standards for the various development efforts around ZFS. Read the silent announcement here (no link, opensolaris.org no longer exists).

One of the first projects that the ZFS Working Group is working on is to define a more granular approach to zpool and zfs on-disk formats that aims at facilitating interoperability between different versions of ZFS, even if they come from different vendors.
Illumos
Another emerging player in the Solaris eco-system is the Illumos Project, a project that aims at creating a Solaris kernel and basic operating system core that is 100% open source. "Wasn't OpenSolaris open source already?" you ask. Yes, mostly. There were still a few parts that nobody got around to port/review/get clearance for, like Internationalization, some drivers or the NFS locking daemon. Illumos is about replacing these last bits with 100% open source equivalents in order to complete the OpenSolaris promise.
Garrett D'Amore (@gedamore), founder of Illumos was so kind to give me an interview about the history of and his plans for Illumos. It's published in the latest episode of the HELDENfunk podcast from SYSTEMHELDEN.com. The podcast is in German, but the interview is in English, just skip to 03:29 if you don't understand German.
OpenIndiana
Illumos is just a kernel and the associated utilities, not a full operating system or distribution. Other players like Nexenta, Joyent (no link, page no longer exists) and Delphix pick up Illumos and incorporate it into their own products and distributions.
But OpenIndiana is different: It is a complete, generic, fully open source Solaris distribution that picks up where OpenSolaris has left, providing users with a complete OS for servers and desktops.
In a second interview, Alasdair Lumsden (no link, everycity.co.uk no longer exists) (@alasdairific), founder of OpenIndiana and UK hosting company Everycity (no link, everycity.co.uk no longer exists), and Andrzej Szeszo (@aszeszo) talk about OpenIndiana, how it started and their current plans and challenges for the future. Again, it's part of the current German HELDENfunk episode but you can skip right to 17:16 and listen to the interview part which is in English.
Conclusion
Solaris is growing. Whether it's driven by Oracle's Solaris 11 or the extended Solaris community, there's no question that the Solaris eco-system continues to evolve, innovate and deliver cool stuff on a regular basis and for a wide range of companies, users and developers.
What's your opinion on the Solaris eco-system? Have you checked out Solaris 11, Illumos and OpenIndiana lately? Share your experience in the comments!
Disclosure and Disclaimer Many thanks go to Nexenta for inviting me to visit the Nexenta European User Conference and paying for my travel costs. The views expressed on this blog are my own and do not necessarily reflect the views of Oracle, my employer.