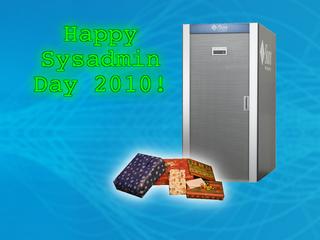 Every year, on the last Friday of July, Sysadmin Day is celebrated around the world.
You know, the guy (or gal) that makes sure you always receive your emails on time, strips away the spam, cuddles your web server so you can write blog articles, or makes sure the network is always online, so you can read your favorite blogs. Or install new servers and storage so your web experience becomes faster and so your data is never lost.
Sysadmins often have a hard time: Noone calls them to tell them "Thank you for delivering all my emails!" or "Thanks for making sure my data is backed up every day!". Instead, they only get phonecalls when something goes wrong, or worse yet, some anonymous electronic complaint in some soulless ticketing system.
Therefore, this Friday, the 30th of July, 2010, think about your sysadmin, call her up and say something nice, or consider giving them a gift. Here are some geeky gift ideas for sysadmins to celebrate Sysadmin Day 2010, from low-budget to truely-devoted-appreciation pricing order.
After all, you really don't want your sysadmin to turn into a grumpy BOFH, do you?
#1: Tidy Up Your Sysadmin's Cables With a Cool Cable Management Solution
There are never enough gadgets on a sysadmin's desk: Computers, monitors, mouse, mobile, coffee machines, you get the picture. Show your love for your sysadmin by nicely tidying up all the cables with one of these creative, gorgeous cable management solutions. I personally like the leaf ties best, but hugging monkeys are very cute, too. Or the spaghetti fork?
#2: Get Your Sysadmin a New Coffee Machine and Supplies
Sysadmins live off of coffee. You could even say that the speed of your internet connection, the spiffyness of your file server, or the rate your mailbox is cleaned up from spam is directly proportional to the amount of coffee that flows through your sysadmin's veins.
Coffee is important. Never let your sysadmin run out of it.
Which makes your sysadmin appreciation job easy: Get one or more of these:
A fresh pack of really good, freshly ground coffee.

A nice and practical french press.
Of course, more sophisticated coffee accessories are possible, but it's often the simple things that work best. Not just in IT.
Oh, and don't forget the favorite sysadmin coffee alternative: Club Mate.
#3: A Subscription to Make Magazine
Make Magazine is the Mekka of the DIY geek and the bible of secret ambitions for your sysadmin. Send you favorite IT person to heaven by giving them a couple of issues of Make Magazine, or a whole subscription.
The current issue comes with an article about a laser targeting mosquito zapper (how cool is that?), instructions for building a Hi-Fi amplifier (sysadmins like to party, too!) and for the incredibly useless machine that turns itself off (Don't worry, your sysadmin won't let that happen to your servers. Promise.) Plus an article about brewing your own club mate, so that sysadmin energy supply never runs low. Check out the full table of contents!
#4: Help Your Sysadmin Go Paperless With a Doxie Scanner
Sysadmins are all about going virtual. Too bad that the pesky real world still relies on too much boring paper… Help your sysadmin go paperless by offering them a Doxie scanner!
This is the easiest, most simple and cheapest way I've seen to get rid of paper and unclutter your sysadmin's workspace by scanning everything into the computer, or directly into the cloud using Evernote, Google Docs, Flickr or other applications and services.
I've been using my Doxie scanner for a few months now and it completely simplified my whole paperwork and filing process, even though I already own a flatbed scanner. If you understand German, listen to our HELDENfunk podcast episode 45 featuring the Doxie scanner.
#5: Put All Manuals Into Your Sysadmin's Hands at Once With an eBook Reader
Now that all documents, receipts and other papers are safely stored in your sysadmin's IT systems, it's time to get them out again, without the need of killing innocent trees.
That's where eBook readers can shine: Using e-Ink technology, they look like paper (without the strain of a glowing display), store large amounts of books and manuals, and are really handy for carrying around documentation, man pages and other crucial sysadmin information stuff.
Prices have really fallen down for ebook readers since the advent of the iPad, so here's your opportunity to help out your sysadmin with a useful gadget: From the light and colorful Bookeen Cybook Opus to the more luxurious Sony Reader PRS-600 Touch Edition (no link, page no longer exists) (I loved mine until I got me an iPad and one of them had to go), to the now classic Amazon Kindle (affiliate link).
Trust me, you do want your sysadmin to have all her documentation at hand when dealing with that "server down" situation in the basement…
#6: Help Your Sysadmin Keep Notes, the Digital Way
Another favorite gadget of mine is the Livescribe Digital Pen (Buy it at Amazon.com, Amazon UK, or Amazon Germany, affiliate links).
I've been using my Livescribe Pen since more than a year and I love it. It records everything you write down so you'll always have a digital backup of your notes, making them searchable (my handwriting is pretty ugly and it still finds words quite easily). But the coolest thing is that during conferences, lectures or other public events it can record the audio in the room along with your notes, turning your notebook into an interactive audio player: Just tap a word on paper with your pen and it will play back whatever was said the moment you wrote down that word. An amazingly easy way to recap a presenter's point when going through your notes. You can even create movies out of your notes: For example, here are my notes from CloudCamp Paris 2009 (no link, sun.com no longer exists), or check out some amazing cartoon "Pencasts" (My favorite is Bill Plympton's Guard Dog).
#7: The Easy, No-Fail Route: An Amazon Gift Card
In a hurry? No idea what your sysadmin really likes? There's probably a bunch of technical stuff that you never heard about, but is guaranteed to send your sysadmin to heaven. Or a book that will turn your genius sysadmin into an even better sysadmin. So, if you're unsure what to get, use the wildcard, the "*.gift" of gifts: An Amazon Gift Card (US|UK|German Version, affiliate links).
Bonus: Gifts for Blogging Sysadmins
Your sysadmin is most likely a blogger. Or maybe a German Podcaster. Who knows? Bloggers and other web content creators love it when their content is appreciated, so here's another list of 10 Ways of saying "Thank You" to your blogging sysadmin.
More Sysadmin Gift Ideas
Still not sure what to get for your devoted IT hero? Then check out Think Geek (I always find loads of cool stuff there…), Mashable's Gadget section or go visit the Sysadmin.com page for more sysadmin themed gift suggestions.
Your Sysadmin Day Tips
Are you a sysadmin? What would you like to get for sysadmin day? What was the craziest gift you ever got? What other cool sysadmin gifts have you found?
Share your sysadmin gift ideas in the comment section below!